Struggling to remember to do your pelvic floor muscle (pfm) exercises?  What you may need is the Squeezy App.  It's been specially designed by a Women's Health Physiotherapist to help increase the regularity with which women do their pfm exercises.  Currently only available on i-phone, the Android version should be available at the beginning of June.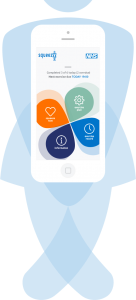 Lots of women admit they forget to do their pfm exercises or need some prompting to do them.  If you fall into that category, then this may be the answer.  The Squeezy App lets you tailor a personalised pfm exercise programme to the regime advised by your physiotherapist, and you can set alarms and/or reminders, together with audio/visual prompts to help you do your exercises.
There's useful information in the section in the App 'How to squeeze' for those women who haven't seen a physiotherapist.
If you're in any doubt if you are doing your pfm exercises correctly, please see a specialist Women's Health Physiotherapist, who can put you on the right track.
Unfortunately I see so many women in practice who are not doing their pfm exercises correctly. The top two common mistakes are:
holding your breath (

and using the ribcage to 'hoik' up the pfms without using the muscles properly), and/or 

squeezing your buttocks.
I offer a Pelvic Floor MOT, a one-off session to assess your pfms and teach you how to do your exercises correctly.  Once you've mastered the correct technique and been given an individually tailored exercise regime, you're much more likely to strengthen your pfms quickly and effectively.
The Squeezy App has been approved by the NHS as safe and trusted.  It only costs £2.99 to download from the App Store.  What's more, some of the proceeds of sale are donated to charity: the Bladder & Bowel Foundation and the Lewisham and Greenwich NHS Trust each receive £10% of the profits.
If you'd like more information, go to the Squeezy website: www.squeezyapp.co.uk.
Summary
Reviewer
Review Date
Reviewed Item
Squeezy - Women's Physio Pelvic Floor App
Author Rating